Profiles
Staff and Shows
Looking back on George's life and his passion for all things unexplained, it seems almost fated that he would fulfill this unique role. Read More...
While still a teenager, George joined NICAP, the UFO organization that was a precursor to today's MUFON. George immersed himself in the field, "so much so that I decided I wanted to go into broadcasting in order to do unusual stories in the paranormal and stories that the mainstream media didn't want to touch," he told After Dark. Indeed, George's very first broadcast interview, while a young radio reporter for Detroit's WCAR-AM, was with Roswell expert/physicist Stanton Friedman, whom he has remained a lifelong friend with. Now with a 30-year history in the broadcasting field under his belt in such positions as executive television news producer and news director, George brings a wide swath of experience to the table. In fact, at age 28 he was the youngest major news market news director in the country when he was at KMSP-TV in Minneapolis. But it was just a couple of years ago that he came to the attention of Premiere Radio Networks, who heard him on his late-night radio program on KTRS in St. Louis. Known as "the Nighthawk," George's penchant for covering paranormal topics with enthusiasm and skill impressed Premiere. He was then brought on board to host the Sunday night Coast to Coast show. And as Art's back problems became more severe, George was honored to fill in for him on a regular basis. "Coast to Coast AM may just be the most unusual show I have ever witnessed or been a part of. You really almost have to be born into that arena, I think, in order to handle it. I was very lucky in that's the way I was guiding my own career. It was this thirst to really get to the bottom of some of these stories that kept pushing me," George said. Other highlights of George's life include serving nine years in the U.S. Naval Reserve and winning three Emmy Awards as a news executive. But certainly manning the helms of Coast to Coast AM is a pinnacle for George, allowing him to pursue the unexplained on a grand scale. It's become his destiny to guide the huge audience from more than 500 radio stations through the night in this dynamic format created by Art Bell. - Visit his Official Website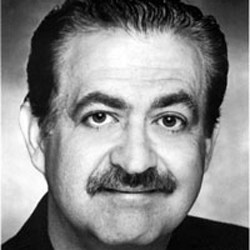 Wake up with America's first news – The Wall Street Journal This Morning. Read More...
Host Gordon Deal and news anchor Gina Cervetti go beyond the headlines with the day's first look at news and business news from the U.S. and around the world; bringing a lively blend of intelligent information, humor, and expert analysis to morning radio. - Visit the Official Website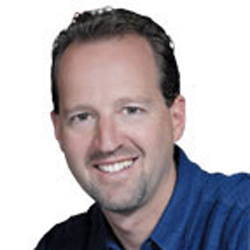 Join Pat Cadigan, Johnny Lee Walker, and Dave Strandberg for local news, weather, and sports. Tune in Mondays for the "Monday Morning Classifieds" as well as Thursdays for "Dear Pat." Read More...
Pat Cadigan
My first contact with radio came at the age of ten, when I was asked to substitute on a couple of fifteen minute country shows hosted by Famous Lashua "The singing Cowboy." He had taken a short vacation and his recorded Saturday morning show had to be hosted by a substitute guitar player. That was demanded by his sponsor Herb Spindler's Farm and Home Store in the West End. My next door neighbor knew I could play one, so set me up to do the shows. He incidentally was a radio sales person, and was the main reason I did the shows. He sold my parents on the idea. Several years later while I was attending UMD, several of the theater crowd came together to put KUMD radio on the air. We actually used a wooden cigar box, a toggle switch, and 100 feet of wire strung between a chimney and the student union to do it. Later that year, I heard of an opening at WDSM radio, auditioned for the opening, and was hired to run their evening shift of shows from NBC radio network. It wasn't more than a couple months later I was told to learn how to be a record playing host as the network was canceling its evening programs and switching them to the new NBC-TV network....thus ushering in the era of what came to be called rock and roll. Like any young kid, I loved that stuff and all that went with it...... It was a wild ride for Pat "The Cat." After two years, I was drafted into the US ARMY. Upon my return, I worked at WEBC, WDSM, WQMN, and KLIZ. In 1961, I was hired by KDAL to run an all night show. After graduating with a teacher's degree in secondary education, I was given a daytime show on KDAL. I continued to work off and on until 1974, when I received my real estate license....left KDAL and didn't return until 1982, and then with the understanding that I was willing to work in the mornings, but the rest of the day had to be mine. In 1961 I met up with Florian Chmielewski, who was a farm boy with a couple hundred milking cows. He told me of his desire to sell the cows and pursue a musical career and would I be interested in MCing his band as a front man? I agreed to give it a try. Well, it turned into a five night a week thirteen year relationship. We traveled around the entire country and almost all of Canada....produced a weekly TV show which was syndicated in twenty-five markets and beat All in the Family in the ratings. Archie Bunker never got over it. My real estate interests were taking up most of time now, and radio was still my first love. I had to choose music or radio and I selected radio. I'm glad I did because I met a guy named Rik Jordan with whom I spent 26 years on the morning show with. He was the best talent this part of the country had heard. Rik retired last year and was replaced with Johnny Lee Walker. Again, what a break for me. I've been able to work with the very best talent at the very best station in the upper Midwest, KDAL.
Johnny Lee Walker
How do you follow a bio like Cadigan's? I'm a city-iot who made the pilgrimage to Duluth in 1996. It is definitely home and I wouldn't live anywhere else. I have a beautiful wife, 3 kids, 2 cats, love Canada, hate litter bugs, I'm addicted to salsa, hate olives, and would love no more than to live in the middle of the woods. I do some freelance voice work on the side and would love someday to make it a permanent career. My free time is taken up with my family but also fishing, camping, botching carpentry jobs around the house, a little golf, annual Twins/Vikings game, and trying to figure out why nothing is safe in the house when we're gone and the cats have the run of the house. KDAL is without a doubt THE radio station for Northern Minnesota/Northwest Wisconsin. I love the tradition, the stories, and privilege I've been given to be a part of the next chapter in KDAL's legacy. Thanks for listening.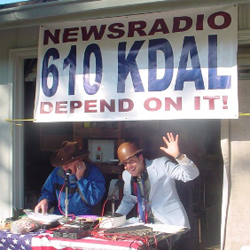 Join Dave and Tom for Northland News and Weather, as well as Weekly Traditions, School board Mondays, City Council rewinds Tuesdays (after meetings), Gaga updates from Tom Hansen, and Dave Strandberg's grackle battle. Read More...
Dave Strandberg
In 1964, I took a part time announcing job on my hometown radio station WATK in Antigo, Wisconsin. I thought it would be a fun way to earn a little money while waiting for a "real job" to come along. It's hard to believe that I've spent all this time doing something that I really enjoy and I'm very thankful for the opportunities that radio has provided me over the years. I ended up in the Twin Ports and got married to my lovely wife in large part because of Vice President Hubert Humphrey. It's a long story but a phone call from the V-P to the Base Commander at Wright Patterson Air Force base in Ohio got the wheels turning to have me transferred here while I was in the service. After four years in the Air Force, I spent over 20 years at WAKX in Duluth including over ten years as part of the "RJ and Dave" morning show. Since 1992, I've been on the air and in the newsroom here at KDAL. It's always tough rolling out of bed so early in the morning, but I still get a rush out of informing and entertaining everyone out there in "radio-land". I've met and worked with some great people over the years and everyday is a new adventure as my search for a "real job" continues.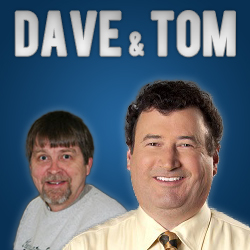 Every day, Clark Howard advises consumers how to save more, spend less and avoid getting ripped off. Read More...
It's more than just a motto for Clark it's a way of life. As a successful entrepreneur, radio host, TV personality and best-selling author, Clark Howard is dedicated to helping Americans of all means get ahead in life.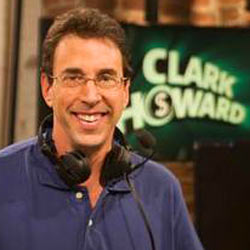 Patrick Reusse first hit the Twin Cities media scene as a sportswriter in 1968 at the St. Paul Pioneer Press and Dispatch, then later made his radio debut in 1980 as the co-host of Sunday Night SportsTalk on AM 1500 KSTP with Joe Soucheray. Read More...
Reusse now tackles the world of sports every afternoon from noon to 2pm during his weekday show Reusse on Sports. One of the Twin Cities most well-known media personalities, Reusse previously had written four-to-five columns per week for the Star Tribune over the past two decades. He continues in his role as a sports columnist with the paper, but has scaled back his writing to two columns per week. I see doing five radio shows as a more challenging task than writing five columns per week,'' Reusse said. "Red Smith, the greatest sports columnist of all-time, once was asked why he didn't try another area of the newspaper and said, 'When I need a column, I always know where to find the dugout.' Patrick Reusse continues from 2-4pm each afternoon with Joe Soucheray, co-hosting SportsTalk, the show that started it all!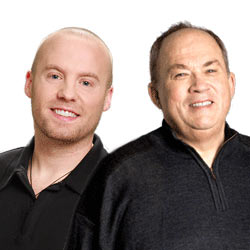 Sure, there are lots of sports shows around the radio these day, but this is the one that started it all! SportsTalk™ has launched careers...created characters that led to new careers...and has even been used as the model for entire radio formats. Read More...
Oh, they've tried to imitate SportsTalk™ over the years, but none have been able to duplicate the spontaneous hilarity, off-beat observations, and the antics that Joe Soucheray and Patrick Reusse bring to the show. Most recently a show heard exclusively on Saturday mornings, SportsTalk™ is now on-air from 2-4pm every weekday afternoon, as well as 10a-12n every Saturday morning. Tune in for the events of the day, with the unique commentary from two of the Twin Cities most popular media personalities, Joe and Pat.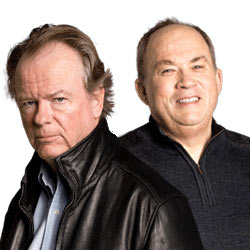 Garage Logic with Joe Soucheray. Joe Soucheray is the Twin Cities' preeminent purveyor of Common Sense. Well known for his philosophy that "anything that needs to be figured out, can be figured out in the garage," Read More...
Joe became the self-appointed mayor of Garage Logic, Minnesota, and is also the Fireworks Commissioner. Garage Logic is more a state of mind than an actual place on a map, though thousands of actual maps have been sold to it's many "residents." The program is a daily examination of the hottest topics impacting the Twin Cities, untangling the chaotic, and making them understandable with common sense and a sense of humor. With a support crew consisting of Matt "Rookie" Michalski, Angie Ludwig, newsman John Heidt, traffic reporter Kenny Olson, and Patrick Reusse with sports commentary ... Garage Logic® provides "Morning Show" attitude from 2:00-5:30pm as you finish up your workday and drive home.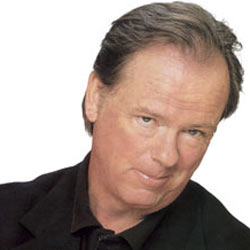 Michael Castner is a popular morning radio talk show host in New Orleans, LA on Clear Channel Communication's FM talker, WRNO. He was also hosted an afternoon show on their sister station in Baton Rouge, WJBO. Read More...
Castner was hired by Clear Channel in 2008 after working for Bonneville on its highly innovative evening talk show Nightside Project. The program focused on news, information and talk aimed at a younger demographic. Nightside achieved significant success and was number one among listeners 25-49. The show originated from Salt Lake City on KSL AM & FM, but was also carried by KTAR in Phoenix and Talk Radio 3WT in Washington, DC. Castner's career has spanned various fields from news to politics to entertainment. He has regularly appeared as both a radio and television host. Castner started his broadcast career at the age of 16 in local radio in Austin Texas. At the age of 19, he landed his first news job as the anchor/reporter for KMVT in Twin Falls, Idaho. His local news career then took him to LaCrosse/Eau Claire, WI. and back to Austin, Texas at NBC affiliate KXAN (then KTVV-TV). It was in Austin that Castner received awards from the Associated Press for Best Investigative Reporting and Feature Reporting. At 21, Castner was hired by Tribune Broadcasting to cover Washington as a television news correspondent. Castner covered the White House, State Department, and breaking news such as the Grenada Invasion. While at Tribune, Castner was the recipient of a National Press Foundation Fellowship Grant. From Washington Castner was hired by Joe Kennedy II to head up his press office in his first bid for Congress. After the campaign, Castner went to Utah as Communications Director for the Utah State Senate. Next, Castner worked in London and New York for Entertainment Tonight as a reporter and producer. He later joined the syndicated show Everyday with Joan Lunden and then became an on-air host for E! Entertainment Television, covering the Cannes Film Festival, the Oscars, Emmys, Grammys and his own talk show The Inside Word. His broadcasts were ratings record breakers for the network. Clear Channel's Los Angeles talk radio powerhouse, KFI-AM noticed Castner's work, and from 2004 - 2006 he anchored KFI's news. Castner not only talks about the issues, but he gets involved. In 2008, while in Utah, Castner pushed for what he called "The Puppy Torture" bill, making animal abuse a felony statewide. More recently, on WRNO-FM Castner hosted a series of shows on cyber-bullying. This led Castner to ask for a law addressing the issue in Louisiana schools. After Castner testified before House and Senate committees the bill passed unanimously. It was signed into law by Governor Bobby Jindal.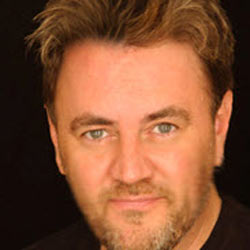 I started at KDAL in 1978 working the mornings with Hunter Como. Broadcasting UMD and high school sports got going almost immediately with Marsh Nelson and Eric Eskola. Read More...
The first game I did on KDAL was a North Stars pre-season game with Winnipeg featuring Bobby Hull. Years later, Brett Hull would be a two year phenom on KDAL's airwaves. Bobby Hull joined me on the legendary "Hockey Talk" after a UMD series with the Gophers at the DECC. Pat Cadigan and I worked together in the early, early, mornings for most of 28 years. It was amazing trying to keep up with Pat I needed lots of coffee to hang on! Away from KDAL, I love to fish and hunt. Walleye and grouse top the list of outdoor exploits, with the annual Governor's Fishing Opener a can't miss event since 1973. I've interviewed thousands of guests over the years, hosted "Communication Line," and other shows. I've had the privilege of interviewing street people, senators, governors, and sports legends. It was an honor to get something interesting from all of them, even when they were on their own agenda. Two grown boys and three grandchildren later, I'm proud to have raised a family in the Twin Ports. I couldn't have picked a better place to bring them up.
The Frenzy
Rik Jordan takes you from rivers to streams, lakes to ponds, trails to stands, sleds to skis, and tackle to targets. The Frenzy hits all aspects of outdoors including tips, techniques, and help getting the gear you need along with the locations to use it.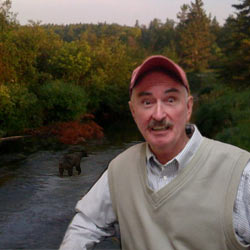 In my 30+ years of being in business I've been told by clients around the country that my outlook on life, eternal optimism and enthusiasm have been major deciding factors of why they have hired or contracted with me to do projects. Read More...
Not to mention the fact that I generally can do the job pretty well that they are considering me for! That's me! It's just the way I am. I don't believe that problems are insurmountable…..in fact one of my favorite lines is "we have no problems-only solutions." In my world the glass is generally half full not half empty and it's never partly cloudy, always partly sunny. I'm pretty convinced that I've survived in life because of that attitude. A good laugh in my opinion is the best prescription for most ailments too. I can find humor in almost everything. Laughing is my tonic and my prescription for sanity. I've been involved in the entertainment industry in some capacity since I was about 13 years old. I've had the good fortune to work as a performer, agent, promoter and producer of concerts, festivals and special events. In the 80's my passion for politics and business slowly began to mix with my interests in the entertainment business and today I produce a number of expo's (bridal show, senior expo, business expo, sports expo and family expo) but also do marketing and strategy for political campaigns and small business marketing consulting. Just a little variety, ya think? It's fun and there is never a dull moment. Oh, and my most important job? A parent of four great kids and three grandkids! A busy life indeed!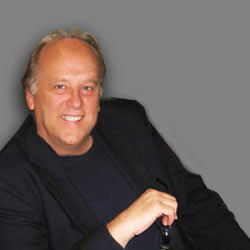 Join Pat Cadigan for the Midwest Polka Party Saturdays from 8a-10a. Pat Cadigan's polka days go back to the Chmielewski Fun Time Band and the days of living on the road. Pat's in the Polka Hall of Fame as a promoter and should be for his days in the band. Read More...
Pat plays everything from current polka-rock to the tex-mex polkas as well as some local favorites. It's no doubt the most all-inclusive polka radio show in the upper midwest. Feel free to call in your request or share your favorite polka story. Keep your ears open for details on the annual KDAL Polka Palooza as well. Let's roll out the barrell and EIOH!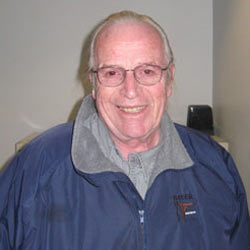 Dale Tondryk grew up in Esko, Minnesota a small northern Minnesota town, which gave him a strong sense of family, leadership and commitment. His daughter is attending the University of St. Thomas. Read More...
Dale has spent his career helping people discover and successfully apply methods about investing and wealth creation to help them achieve a life of wealth preservation and balance. His passion and unique ability to explain simply and inspire people to get to the core of what really matters in their financial lives is bold and empowering.
By increasing a client's diversification, lowering their risk and increasing their expected rate of return he helps lead people to more financial peace of mind.
Dale started in the Financial Services industry in 1982 and has successfully transformed lives and created true peace of mind for his clients.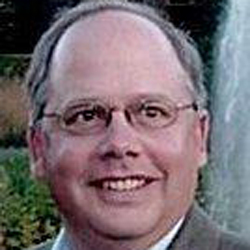 Bob Brinker has more than twenty five years of investment management experience. He is the host of the weekend financial talk program MoneyTalk. Read More...
The program is nationally broadcast live from 4pm to 7pm Eastern time on Sundays. If you would like to call the program, dial (800) 934-2221. Bob answers investment questions from around the country and discusses current issues on the radio program. If you would like to listen to the program, consult your local listings for broadcast times. In addition to hosting Moneytalk, Bob Brinker publishes Marketimer, his monthly investment newsletter. Marketimer covers stock market timing, federal reserve policy, specific mutual fund recommendations, and model portfolios for various objectives. Model Portfolio I is designed for investors with aggressive growth investment objectives. Model Portfolio II is designed for investors with long-term growth objectives. Model Portfolio III is designed as a balanced portfolio for current investment income along with capital preservation and modest growth.